MEASURE YOURSELF CONCERNS AND WELLBEING (MYCaW®)
What is MYCaW®?
MYCaW® is an individualised questionnaire designed for evaluating holistic and personalised approaches to supporting people. It only takes a few minutes to complete and can routinely be incorporated into a consultation to understand and prioritise what a person most wants support with. MYCaW® allows a more rigorous approach to capturing the voice of service users beyond the anecdotal.
First form - Each person writes down the thing that most concerns them, that they want help with, in a box.  MYCaW® can record two main concerns in total.  The concerns are rated for severity using a simple numerical Likert scale and a person's wellbeing is also scored.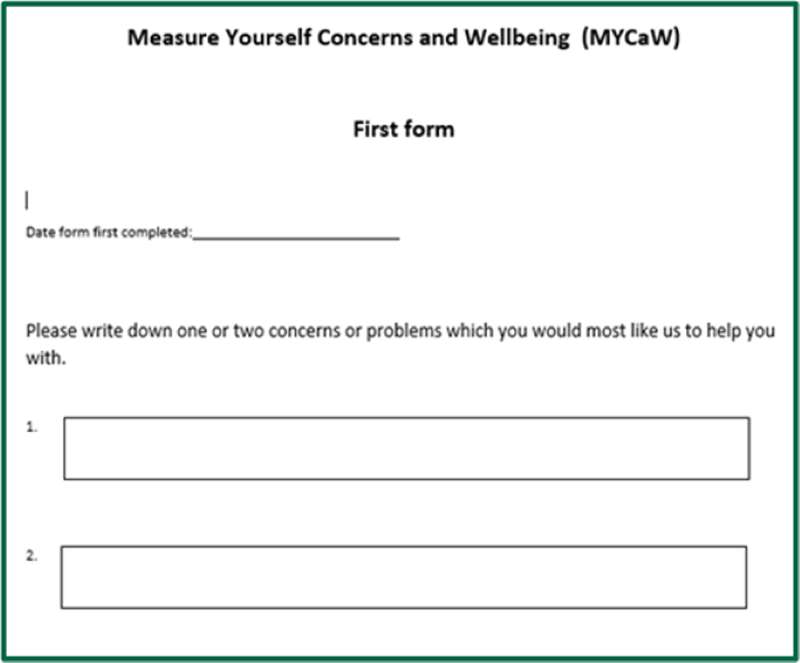 At follow-up - the original concerns are rescored, and wellbeing is rescored.  Two further questions ask if anything else important is happening in a person's life and what has been most important about the service received.
MYCaW® will capture concerns that are medically related, but more often people report concerns that affect their psycho-emotional wellbeing.  People also report practical concerns around finance, housing, job status, concerns about their future, their life purpose, relationships and carer burden. All of these concerns may impact a person's overall wellbeing, yet, many of these topics are not routinely recorded.
What settings is MYCaW® used in?
Is MYCaW® validated as a tool?
Is MYCaW® valid in settings outside of holistic and personalised cancer care?
What is the added value of using MYCaW®?
What sort of data does MYCaW® produce?
Can I make changes to MYCaW®?
How do I access MYCaW® – is there a licence?
Can I get help with implementation and/or data analysis?
MYCaW® Publications and Reports
Contact us today to find out how we can support you: